Professional Results From A Company That Cares
ANNUAL & PERENNIAL INSTALLATION

Seasonal color can have more impact on your landscape than any other design element.  The mixing of annuals, perennials, and bulbs allows for continuous beautiful blooms and lasting beauty throughout the growing season.  At All Seasons Lawn Care we can help you choose the right annual or perennial varieties and stunning color combinations for your landscape.
We know when it is the best time of the year to plant specific annual and perennials, and we can properly prepare the soil with appropriate organic matter and plant the flowers where they will thrive in their new environment.
Our choice of landscape flowers (annual & perennials) is guided by certain factors on the landscaped property, such as:
Soil quality for annuals & perennials
Sun and shade levels
Water availability
Maintenance requirements
At All Seasons Lawn Care we have developed close relationships with several local nurseries to provide you with the best in landscape plants and landscape flowers.  With a keen eye for quality, we hand-pick your annual and perennials to create a landscape that is truly a pleasant sight to behold.
Call us today with any questions about integrating seasonal color into your landscape or for a free estimate.
Our experts at All Seasons Lawn Care can help you incorporate flowers (annuals and perennials) into your landscape that will add color, texture, and visual interest which will make your current landscape even more vibrant, expressive, and captivating.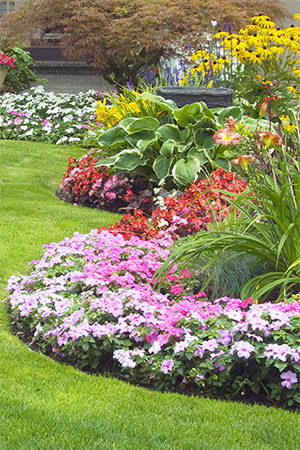 1
ANNUAL & PERENNIAL INSTALLATION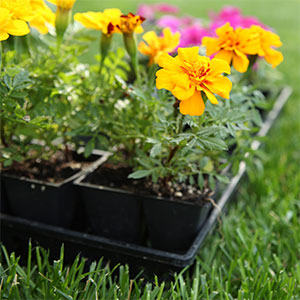 1
ANNUAL & PERENNIAL INSTALLATION
At All Seasons Lawn Care our customers can take advantage of the wide array of premium services we offer including:
ALSO:
Hand Weeding
Shrub & Tree Installation
Grading & Leveling
Drainage Solutions
As always, we welcome you to call our office anytime (201) 935 – 2014 for a free estimate.
We offer lawn and landscaping services for every budget and need.
FREE ESTIMATES
Call Us to Get Started
Our Guarantee
We at All Seasons Lawn Care are committed to providing our customers with the highest quality lawn maintenance and landscaping services and exceptional customer care. We stand behind our work 100%. If you are not satisfied, let us know and we will fix it!
We have the highest regard for our customers and want you to be totally satisfied with our service.
Mike, my lawn never looked better.  Keep up the good work!
I want to thank you for all that you do and for taking such good care of my  mother's property.  I just appreciate it very much!
Thank you for the Fall clean-up — you left the property spotless!
Thanks Mike. My lawn never looked so good.
Michael, we just love our new front landscape.  It's so pretty.  Thank you.
I just want to let you know that your men did a great job.  We are very pleased.
Another great job by ASLC.  Thanks Mike.
Mike, I just want to let you know you're a pleasure to work with.
Once again, another great job
If you are not sure if we provide service in your area, please feel free to give us a call (201) 935 – 2014
Click here to add your own text