Professional Results From A Company That Cares
Lawn installation, renovation, and repair services, by All Seasons Lawn Care, can transform your landscape's turf and enhance your property's beauty and curb appeal.   Since 1999, we have been repairing and renovation lawns in Southern Bergen County, NJ and the surrounding areas.  Whether you only want to repair specific sections or you would like to replace your entire lawn, we have the solution for you.
NEW LAWN INSTALLATION – SOD OR SEED
For many homeowners, a new lawn can provide a fresh new touch to a property, creating a beautiful setting for your home and family and making our house the envy of the neighborhood.  We have the skill and experienced to install a new lawn for yards of all shapes and sizes.
Customers can choose from two methods:  sod or seed installation:
Sod installation involves laying down rolls of pre-planted grass on fresh, prepared soil.  Though this service is a bit more expensive, it leaves a full, beautiful layer of grass in relatively very little time.
With Seed installation, the process takes much longer to grow into a fully established lawn, but this method is less expensive than laying sod and results in strong, well-rooted grass.
LAWN RENOVATION | REPAIR

Customers who don't need a totally new lawn are encouraged to opt for our renovation or repair services.  One of our lawn care professionals will be happy to evaluate your existing lawn's condition and suggest the appropriate renovation or repair services that will transform your grass into a lush area with an attractive, healthy appearance.  Our lawn renovation and repair services include:
Core Aeration
Power-raking
Spot seeding
Patchwork sod installation
Top dressing and Overseeding
Our highly skilled sod and seed professionals can install, renovate, or repair your lawn so that your home or business will look its absolute best.  Give us a call today — our staff welcomes the opportunity to answer any of your questions or to schedule your free, no-obligation service consultation.
A new lawn needs a lot of water. Watering is the responsibility of the property owner. The seedbed should be kept moist to ensure good germination. At the outset this probably means watering every day. After the seed has germinated you can back off to watering two or three times a week. We recommend the use of an oscillating sprinkler, as it is difficult to apply enough water by hand. You probably need to leave the sprinkler on for a half hour to an hour per location. The watering should be gentle and stop before puddling occurs.
We suggest a new lawn receive a minimum of 1 inch of water per sprinkler location per week. During hot and dry periods more may be necessary. We do not recommend watering after sundown because this can promote fungus growth on new seedlings.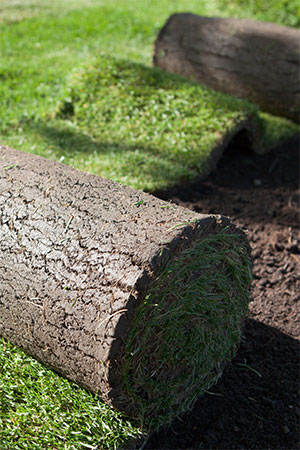 1
Sod Installation with All Seasons Lawn Care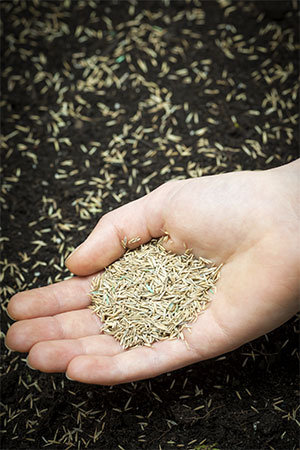 1
Seed installation – All Seasons Lawn Care

At All Seasons Lawn Care our customers can take advantage of the wide array of premium services we offer including:
ALSO:
Hand Weeding
Shrub & Tree Installation
Grading & Leveling
Drainage Solutions
As always, we welcome you to call our office anytime (201) 935 – 2014 for a free estimate.
We offer lawn and landscaping services for every budget and need.
FREE ESTIMATES
Call Us to Get Started
Our Guarantee
We at All Seasons Lawn Care are committed to providing our customers with the highest quality lawn maintenance and landscaping services and exceptional customer care. We stand behind our work 100%. If you are not satisfied, let us know and we will fix it!
We have the highest regard for our customers and want you to be totally satisfied with our service.
Mike, my lawn never looked better.  Keep up the good work!
I want to thank you for all that you do and for taking such good care of my  mother's property.  I just appreciate it very much!
Thank you for the Fall clean-up — you left the property spotless!
Thanks Mike. My lawn never looked so good.
Michael, we just love our new front landscape.  It's so pretty.  Thank you.
I just want to let you know that your men did a great job.  We are very pleased.
Another great job by ASLC.  Thanks Mike.
Mike, I just want to let you know you're a pleasure to work with.
Once again, another great job
If you are not sure if we provide service in your area, please feel free to give us a call (201) 935 – 2014