Professional Results From A Company That Cares
FALL AERATION & OVERSEEDING

Over time your soil naturally becomes compacted, leaving the subsoil undesirable for healthy lawn growth.  Aeration involves pulling small 2-3 inch plugs of soil out of your lawn.  This mechanical process breaks up compaction and allows the grass roots to breath, while the holes left by the plugs increase the grass's ability to absorb water and nutrients, so it grows thicker and stronger.  Lawn experts agree that core aeration can help make your lawn healthier by:
Improving oxygenization
Enhancing soil water uptake
Improving fertilizer uptake and use
Reducing water runoff and puddling
Facilitating stronger turfgrass roots
Reducing soil compaction
Fall overseeding is often combined with lawn aeration since seed germination depends upon seed-to-soil contact.  The holes in the soil and the soil cores resulting from aeration facilitate this requirement and give new turf seedlings favorable conditions to grow and mature, providing they receive a frequent light watering for a few weeks.
Call today to schedule your lawn aeration service(s) or to receive a free estimate.   We know you'll love the results.
1
FALL AERATION & OVERSEEDING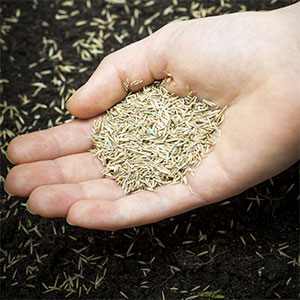 1
FALL AERATION & OVERSEEDING
At All Seasons Lawn Care our customers can take advantage of the wide array of premium services we offer including:
ALSO:
Hand Weeding
Shrub & Tree Installation
Grading & Leveling
Drainage Solutions
As always, we welcome you to call our office anytime (201) 935 – 2014 for a free estimate.
We offer lawn and landscaping services for every budget and need.
FREE ESTIMATES
Call Us to Get Started
Our Guarantee
We at All Seasons Lawn Care are committed to providing our customers with the highest quality lawn maintenance and landscaping services and exceptional customer care. We stand behind our work 100%. If you are not satisfied, let us know and we will fix it!
We have the highest regard for our customers and want you to be totally satisfied with our service.
Mike, my lawn never looked better.  Keep up the good work!
I want to thank you for all that you do and for taking such good care of my  mother's property.  I just appreciate it very much!
Thank you for the Fall clean-up — you left the property spotless!
Thanks Mike. My lawn never looked so good.
Michael, we just love our new front landscape.  It's so pretty.  Thank you.
I just want to let you know that your men did a great job.  We are very pleased.
Another great job by ASLC.  Thanks Mike.
Mike, I just want to let you know you're a pleasure to work with.
Once again, another great job
If you are not sure if we provide service in your area, please feel free to give us a call (201) 935 – 2014